The weirdest, and for my money most delightful, publication in the boating world has ceased operations. Messing about in Boats, which began as a bimonthly journal in the early '80s, covered a broader and stranger beat than any other regularly published magazine I've ever encountered. Named for a famous quote from Kenneth Grahame's The Wind in the Willows (Ratty says to Mole that "there is nothing - absolutely nothing - half so much worth doing as simply messing about in boats"), the whole magazine was a sort of decades-long work of outsider art.
I say "magazine," but perhaps "zine" is more correct. Always a one-man operation, MAIB was the product of eccentric former motorcycle racer Bob Hicks, who compiled, edited, and published each month's black-and-white, staple-bound books from his farmhouse in Wenham, MA. Now into his 90s, Hicks pursued and documented a wide range of waterborne interests over the years, and the publication's many unpaid contributors added their own stories of boating, boatbuilding, and related adventures. Any given issue might have a narrative of a canoe trip down a wild Maine river, a summary of news items from the vast global shipping industry, someone's reminiscences of a family fishing boat, a reprint of a 19th-century clipper ship's adventures, or all of the above.
It's hard to overstate just how far outside the mainstream this effort was. While boating magazines cover many different aspects of watery recreation, almost all follow the same general business model: sell ludicrously expensive products and lifestyles to the handful of people who can afford them. The boats in these publications are either mass-produced plastic vessels with all the latest gadgets, or artisanal celebrations of fine woodworking that resemble heirloom-quality furniture. Even the smallest, simplest boats in typical boating magazines cost five figures, and prices go up rapidly from there.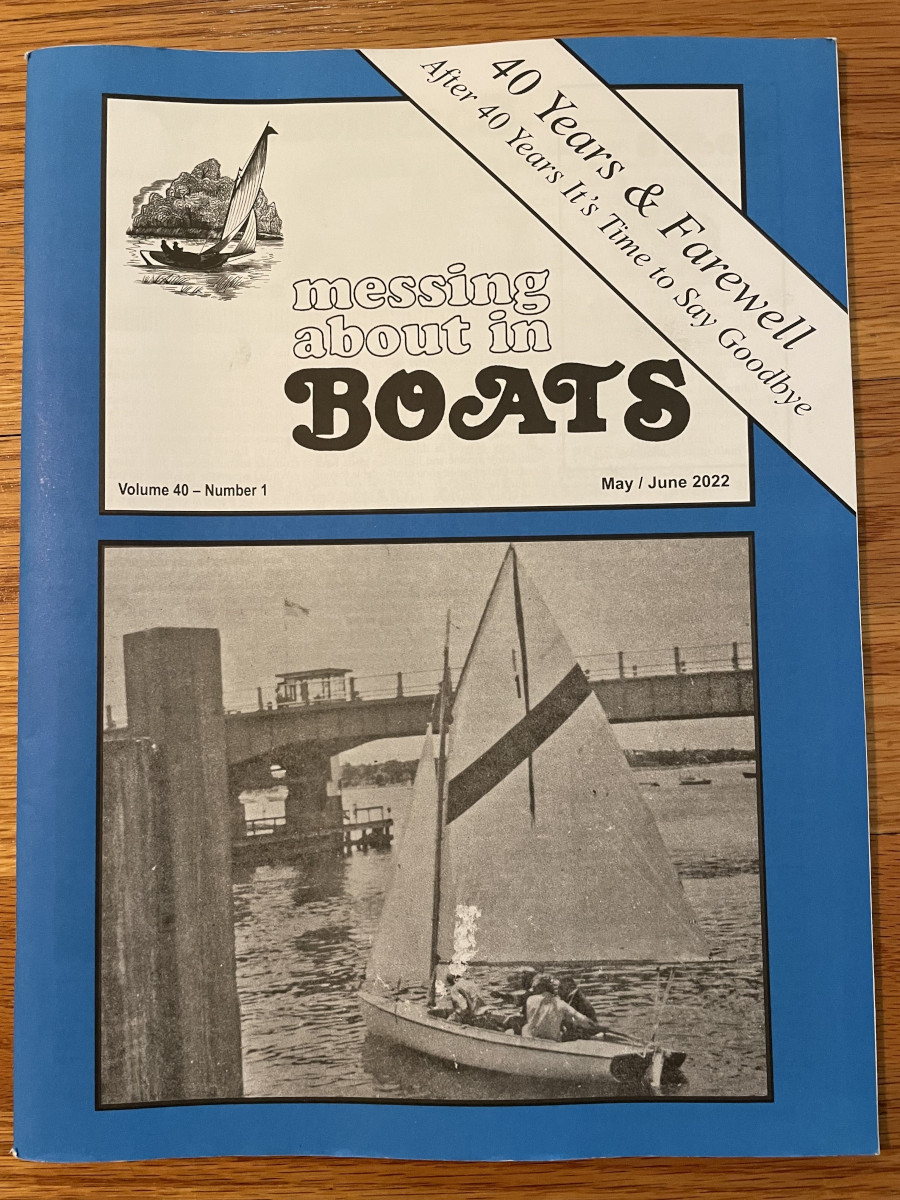 Amid all that excess, MAIB celebrated the small, the cheap, and the haphazard. WoodenBoat will tell you about a fifty thousand dollar rowboat crafted with exotic hardwoods and copper rivets, in which a gentleman owner enjoys idle days on his private lake. MAIB would report on some lunatic who lashed up plywood, dimensional lumber, and Tyvek and sailed the assemblage halfway down the coast. Another correspondent might tell of crossing the Atlantic as part of a yacht crew, then sleeping under an overturned skiff on the London waterfront because he couldn't afford a hotel after disembarking. One frequent writer undertook multi-day canoe voyages along desolate coasts, alone, with no GPS. Considering most of the protagonists of these stories were well past Medicare age, these are tales of extreme sports.
Regular MAIB columnists were the madhouse's cheering section. They included iconoclastic naval architect Phil Bolger, Robb White IV, who inherited his father's wordsmithing and boathandling skills, and a handful of other boating weirdos. Though they specialized in different subjects, they all tacked well outside conventional boating wisdom.
Occasionally, the magazine would include a page or two of news dispatches summarizing US Coast Guard activities, as both a point of interest and a caution about the dangers of going to sea. Despite MAIB writers' rugged adventures, though, hardly any of them ended up needing rescue. Perhaps nailing together a skiff in the garage teaches a keener appreciation for the associated risks than buying it in a showroom. Or perhaps fortune really does favor fools.
In any case, I'll miss reading those stories. Fair winds and following seas, Mr. Hicks, and thanks for a wonderful ride.