An Epistolary History of Wesorts
It's time once again to round up some Wesort news. For those just tuning in, this is a long-running arc on the blog, based on some of my earliest childhood experiences in boats. The first real post in the series is here, where my dad lays out the history of a small sailboat design called the Wesort, which I remember sailing aboard when I was very small. I've since posted a few more times about these nifty little boats, as you can see by looking at the tag.
Because anybody searching for information about this obscure dinghy design now comes across my blog, I'm privileged to get updates like the one that just came in from Kent Mullikin:
I happened on the piece you wrote about We Sorts, and it brought good memories. I grew up in Maryland and remember the Indian Landing Boat Club with pleasure. In 1968, I went to graduate school in Chapel Hill, NC and have lived here ever since, but while my parents were still living on Spa Creek in Annapolis we would often visit them.

It happened that on one visit with our four-year-old daughter in 1980, I saw a somewhat dilapidated little boat that I recognized as a We Sort tied to the bulkhead at the foot of Market Street on the creek, found the owner, and acquired it to fix up for our daughter. The boat, #2, came with the rig, sails, oars, and a blueprint of William Sands's design and construction details. I took the boat home to Chapel Hill and fixed her up as best I could, painted her dark green with a yellow inside, and put the name Wee Lass on the transom.

Our daughter Anna turned five before the restoration was finished, and we took the boat to Kerr Lake to try her out. We had her for six years and used her sparingly. I was racing Lightnings at the time, Anna had interests other than sailing, and we started going to Maine every summer. Rather than let the Wee Lass sit and get dilapidated again, I wrote to the Chesapeake Bay Maritime Museum in May 1986 to offer them the boat. Not only did they accept, but they built five more We Sorts to William Sands's plans that I'd included with the boat, and started a junior sailing program. I do not know whether any of the boats survive at the CBMM. In 1992 a fire in a storage shed damaged three of them, and I have lost touch with the museum. I append a few photos of Wee Lass and the boats built by the museum.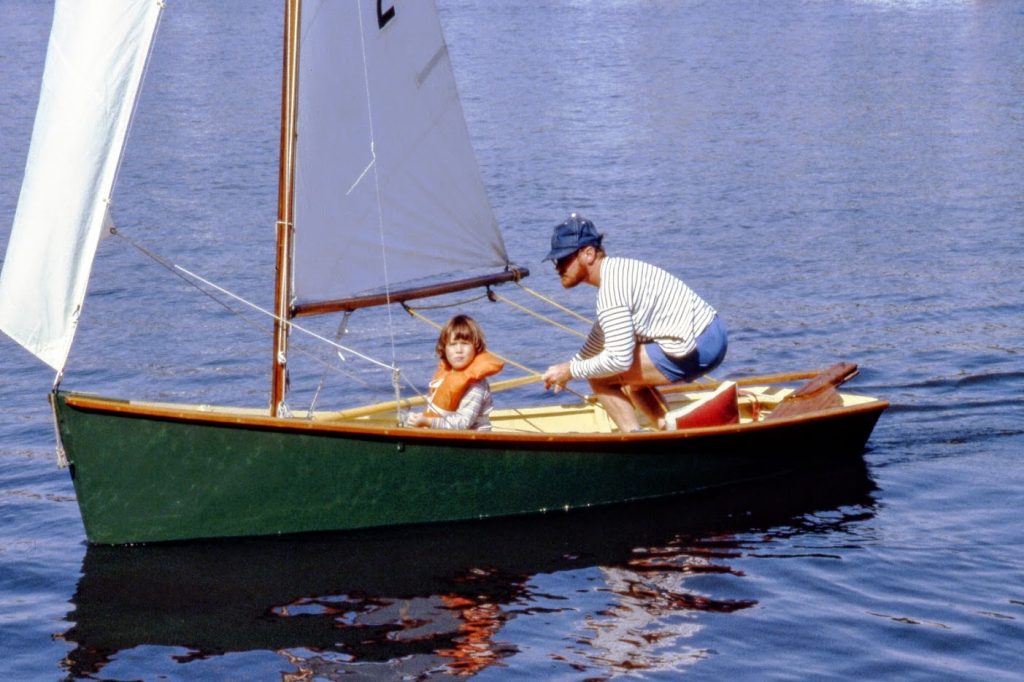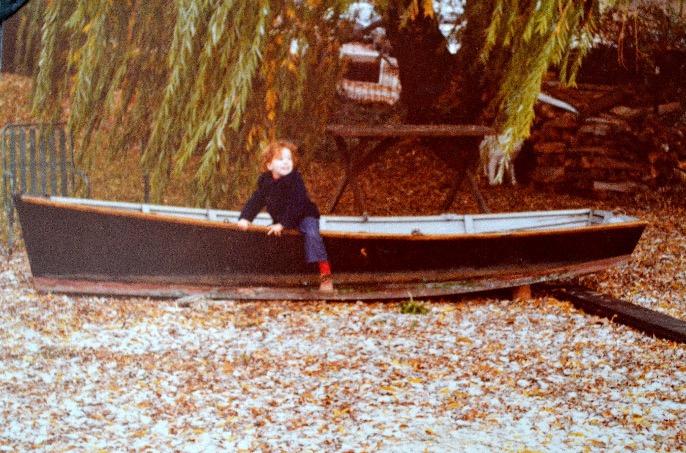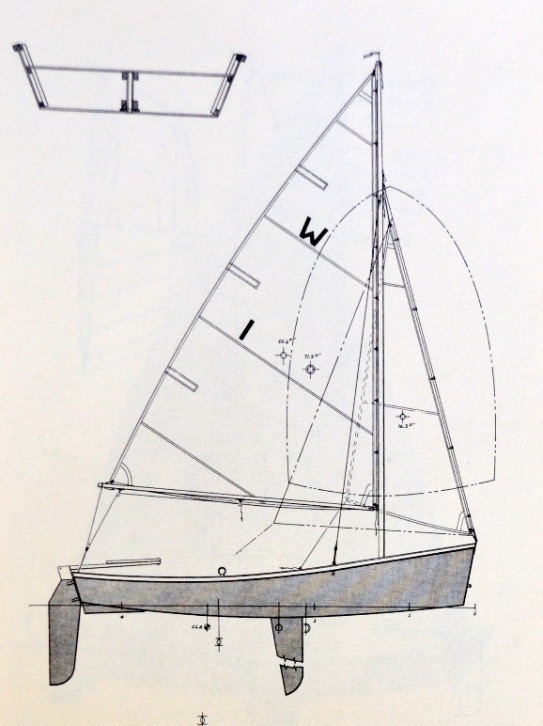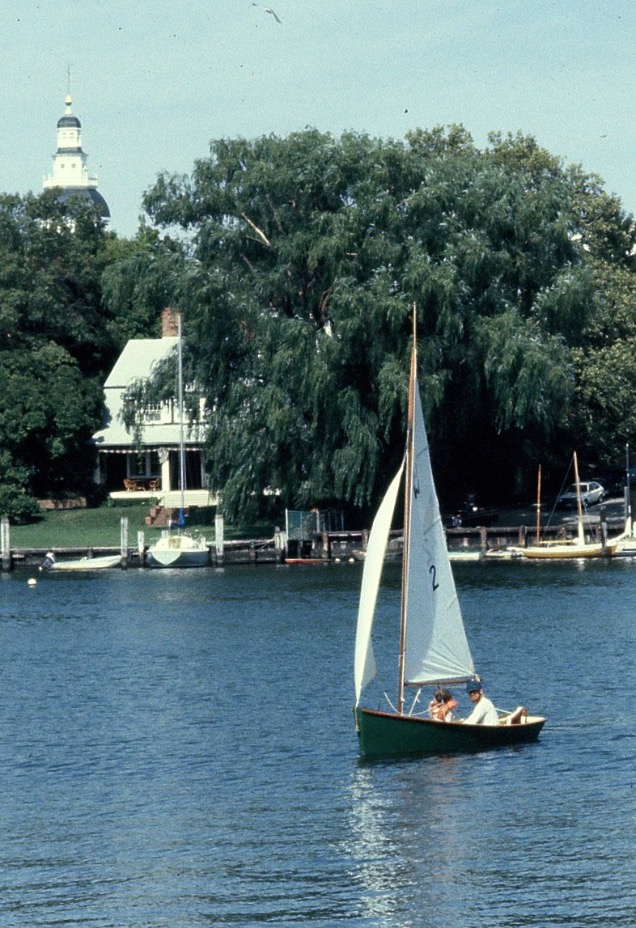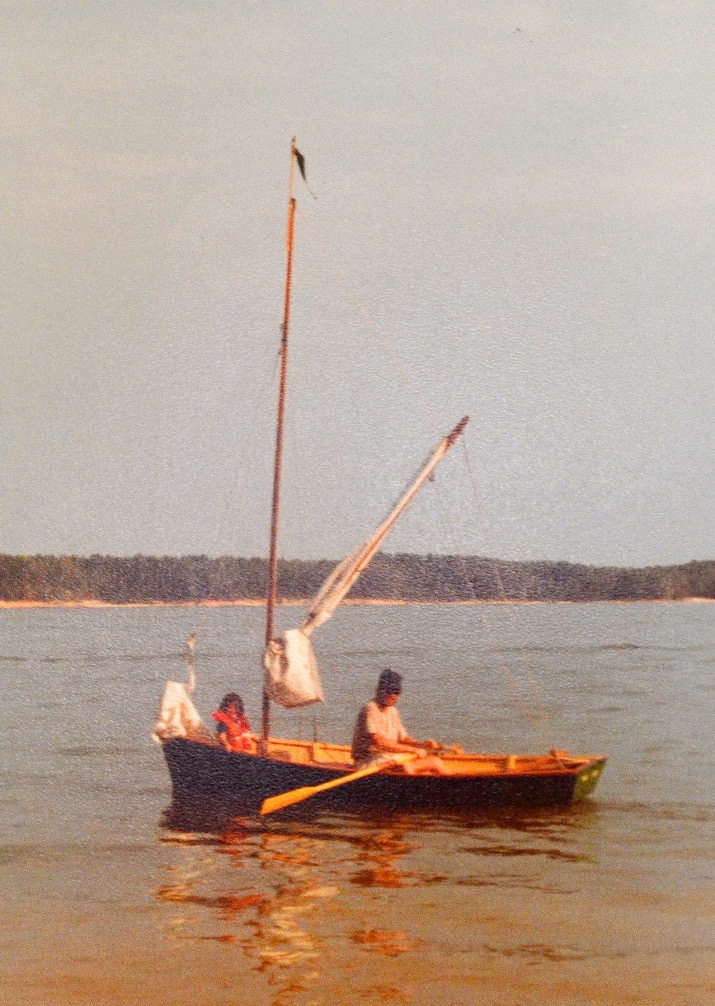 Wesorts in action. Images courtesy Kent Mullikin.
In answering Kent's note, I put my dad in the Cc: line, as he knows quite a lot about these boats. Dad added more of the Wesort story:
Unlike Bill Sands' boats, my Wesort was easy to identify by its transom brace, which was short of "Owl-shaped" instead of square. Just a decorative touch by the builder, Beall Boats. I can't recall the hull number but think it was in the low 100s.

I knew that a Wesort was in the Chesapeake Bay Maritime Museum in St. Michaels but don't know if it is still there. I can find out. The CBMM did have an active boatbuilding program with Wesorts for a couple of years, so there are probably still several of them in the Miles River area.

I remember when Bill Sands launched his first few boats and tried a variety of detail changes among them. He had one that had a center footwell surrounded by seats for easier rowing. With his typical wry humor, he called it the "Sands Pit".

As you know, the Wesort was intended to be an inexpensive replacement for the Penguin dinghies we had used at Indian Landing for Junior sailing in the 1950s and '60s. Penguins are better performers, especially in light air, but they have compound curves in the plywood and are tricky to build. By the late 1950s, racing Penguins were costing $500 or more, while a Wesort could be built for about $100. The Wesort also had a jib, which gave the trainee crew something useful to do besides serve as movable ballast on the cat-rigged Penguin.
So there you have it. There were probably a hundred or so of these easy-to-build sloops assembled in various garages and sheds around the upper Severn River, they formed the backbone of an active youth sailing program at Indian Landing Boat Club for many years, and at least a few examples of the design are still around. Since Wesorts were always intended to be built by amateurs, the blueprints archived at the Chesapeake Bay Maritime Museum would probably have all the information someone would need to construct a new one. Who's up for the challenge?